OK, so truth be told, I came to my site today to read all my stories and finally map out where each one left off. There are getting to be quite a number of them and my memory isn't what it once was…
I had to take a moment, however to tell you about a very recent twist. I'm a bit excited and see no need for it to be a secret. I know my readers will not say hurtful things if I'm not successful and I wanted to share my experience with you from the get-go.
Last night I submitted an online video as part of the application process to appear on Dragon's Den. For those of you in the US, that is Canada's version of 'Shark Tank.' I believe the UK calls it Dragon's Den as we do.
I'm a complete novice at this sort of thing and have only taken 2 selfies in my life, no videos. I would rather not video myself at all but those are the rules. I'm very serious about the success of my business so I pushed myself out of my comfort zone. If you follow me on Facebook, you will see the exact audition video I submitted. I tried to install it here but it mounted sideways. I removed it as I thought that was not very professional. Sorry.
Next step is a live audition Saturday, March 7th, Downtown Ottawa. If that goes well, I will be selected to appear for the live auditions in Toronto sometime later this year. I was actually more nervous about DRIVING to the audition, than the audition process itself! I'm a country girl and don't relish city driving. Ottawa isn't huge but it is one million people strong according to the latest signage. I solved that dilemma. Considering the purpose and possible outcome, I'm springing for a cab instead of driving and finding parking etc. It will be costly but worth it. I thank God that he allowed me to design and handcraft pocket-sized products I can carry in a briefcase. (I've never tried UBER though we do have it here. Baby Steps. 😉 )
I have also received my list of lovely ladies in Hollywood who will be receiving my products as Mother's Day Gifts during the week of May 4th. The list is not a secret and as none of these celebrities will have heard of me, YET, they will not be aware of my website. Here is a picture of the list for 2020. Some have recently had their babies while others are expecting as of this post. (UPDATE March 4th… I found out before E-talk that Sophie Turner is pregnant. As of last evening, they were still wondering on their broadcast. I follow her now on Instagram and yesterday she posted that she has 2 "Elle" Magazine covers coming out in the same month – One in US and on in UK. Fun!)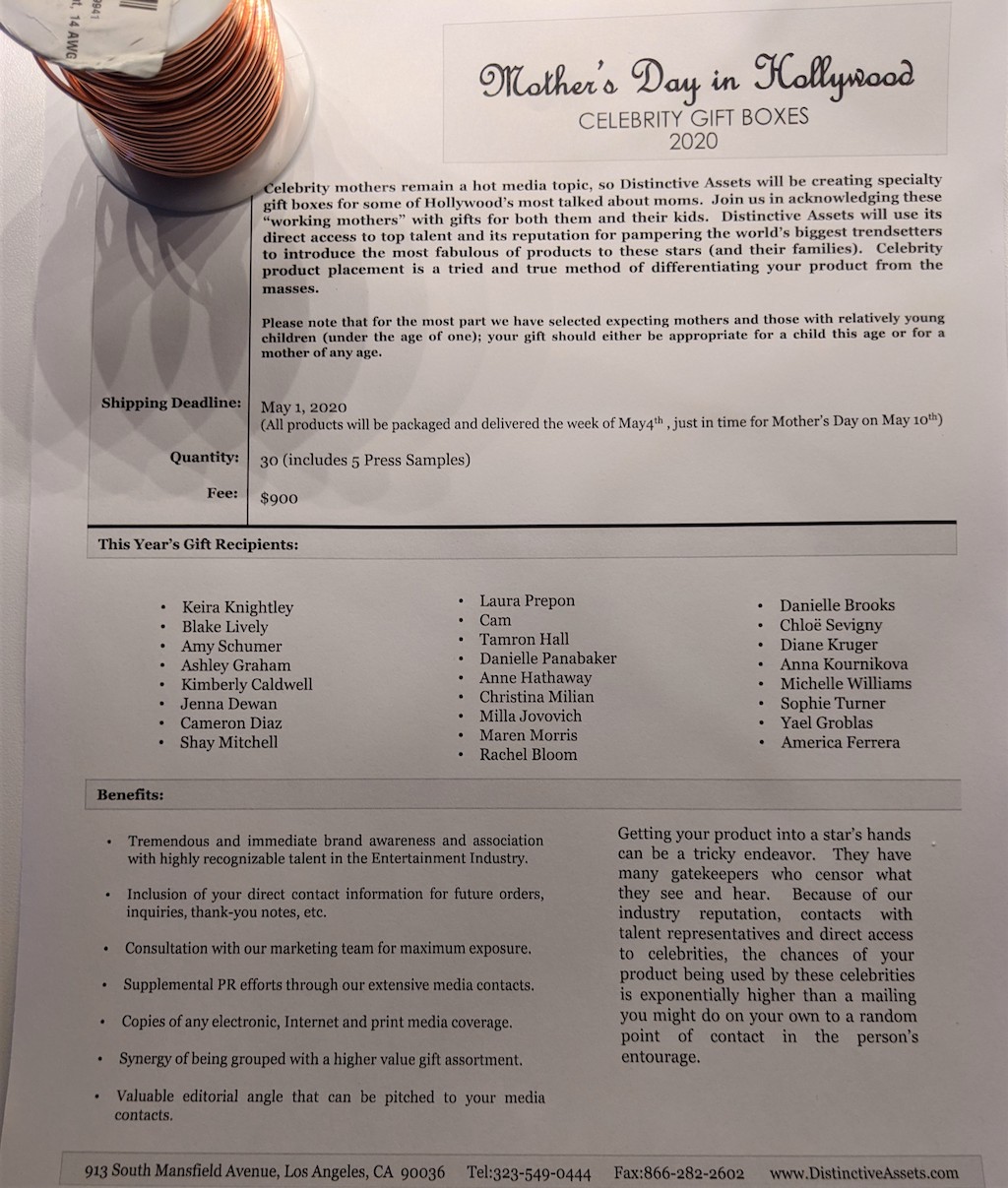 I have to send these myself and wanted to add a bit of whimsy to my packaging and make it look special. Obviously regular bows were out due to the space they would occupy in the larger box, and their crush factor. Designed this packaging to be noticed and opened, followed by contents being appreciated, photographed and posted onto Social Media! Fingers Crossed. Of course I've now started following thru Instagram, all the women listed, though I'm not able to find an Instagram address for Keira Knightly. I also think there may be a typo… "Cam?" Cameron Diaz? Added twice and the second not removed completely? Sending package this week so it can be one thing crossed off my list and will wait for the results. My phone will finally be with me at all times!
I'm going for refreshing vibes of Spring and Hominess , while still leaning on the side of Elegance. All this in an easily packed shell. I believe I nailed it!
Another bit of Good News… the Hallmark Cards Illustrator that I emailed 2 months ago has been in touch. Not a yes or no. She, Mirna Stubbs, is interested but our collaboration depends on our schedules WHEN I find a publisher. So first I need to get my stories cleaned up and presentable… which reminds me why I sat down at my laptop today!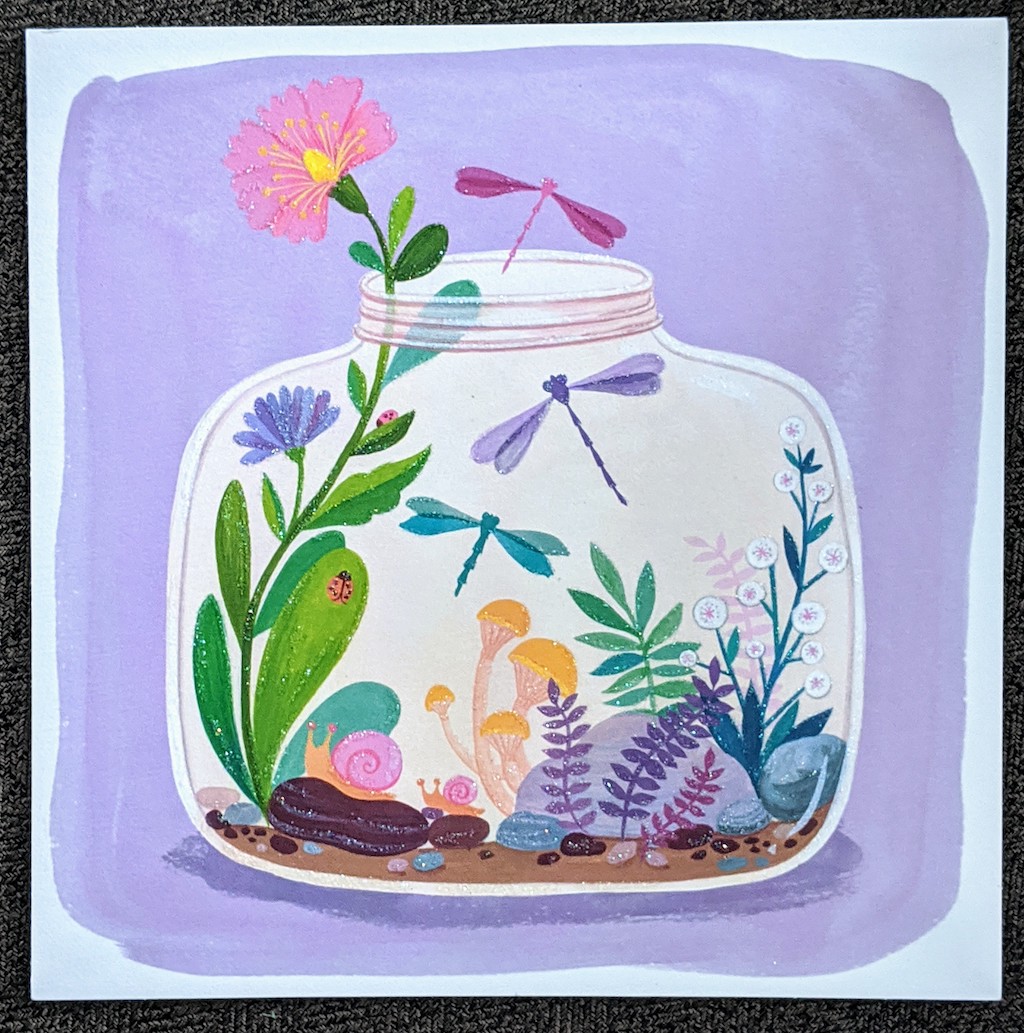 My thought for the day – Don't worry about memorization. Know your subject and speak from the heart. Your passion will see you through.
Please keep an eye out for my March Contest and your chance to win a pair of Hazy Dayz Dragonflies. Posting Sunday, March 15th, hopefully accompanied by a Fancifull Story.
Have a great week everyone,
Sue, Axie and all the Fancifulls on both sides of the border!