And make your dreams a reality. That is what I'm doing.
One dream, (I really was sleeping at the time.), was to see my dragonflies in the "Swag Bags" at the 'Oscars.' For those not aware, The Academy Awards, aka The Oscars, with all its glitz, glam and golden statues, is also a promotional opportunity for entrepreneurs like me. For reasonable sums of money, you and your product can be introduced to the actors who are nominated for awards at that particular year's ceremony.
My dreams, if remembered, don't usually make sense to me. They're a convoluted combination of reality and imagination that is not tangible and in most cases unidentifiable. Such was not the case with this dream. It was very clear.
After about 2 weeks of sub-concious nudges, I decided to act. Hollywood was not going to come knocking on my door. If I wanted my Fancifulls in Swag Bags, I better figure out how to make it happen.
It's true. You can 'Google' anything. Within 5 minutes, while sitting on my deck, I had found the promotional company that prepares gift packages they deem are appropriate for the event. Since my contract is already signed, sealed, and delivered, I'll share what I found. Distinctive Assets, in Los Angeles, owner – Lash Fary. He has been promoting products with the stars since 1999. His website offers a page where you can apply to have your new, wonderful, never-been-seen-before item for consideration.
With a brief description of my company, 6 short weeks old at the time, and the link to my website, I sent off my application. I had done what I could. The rest was out of my control. I had a gut feeling though that I'd hear back. I didn't talk about it because I thought everyone would think I was crazy. The wait was not long. 2 days later, I received this response:
Hi Susan,
I wanted to share our updated event deck with you to scroll through that includes our 2020 GRAMMY Gift Bags to Presenters & Performers, and our buzzworthy "Everyone Wins" Gifting for the top five categories of Oscar Nominees you mentioned.
You may access our press wrap up reports on all our shows from the past several years at www.distinctiveassets.com
by clicking on Client Log-In tab in the top right hand corner and entering the password… Sorry… had to delete that bit… (case sensitive) to give you an idea on press garnered.
If you have any questions or would like any other information please let me know. Plus I would be thrilled to extend some summer discounts upon pre-approval on either or both opportunities as well.
Carpe Diem,
With appropriate signature block…. The 'Carpe Diem' in closing was what made me determined to see my dream through.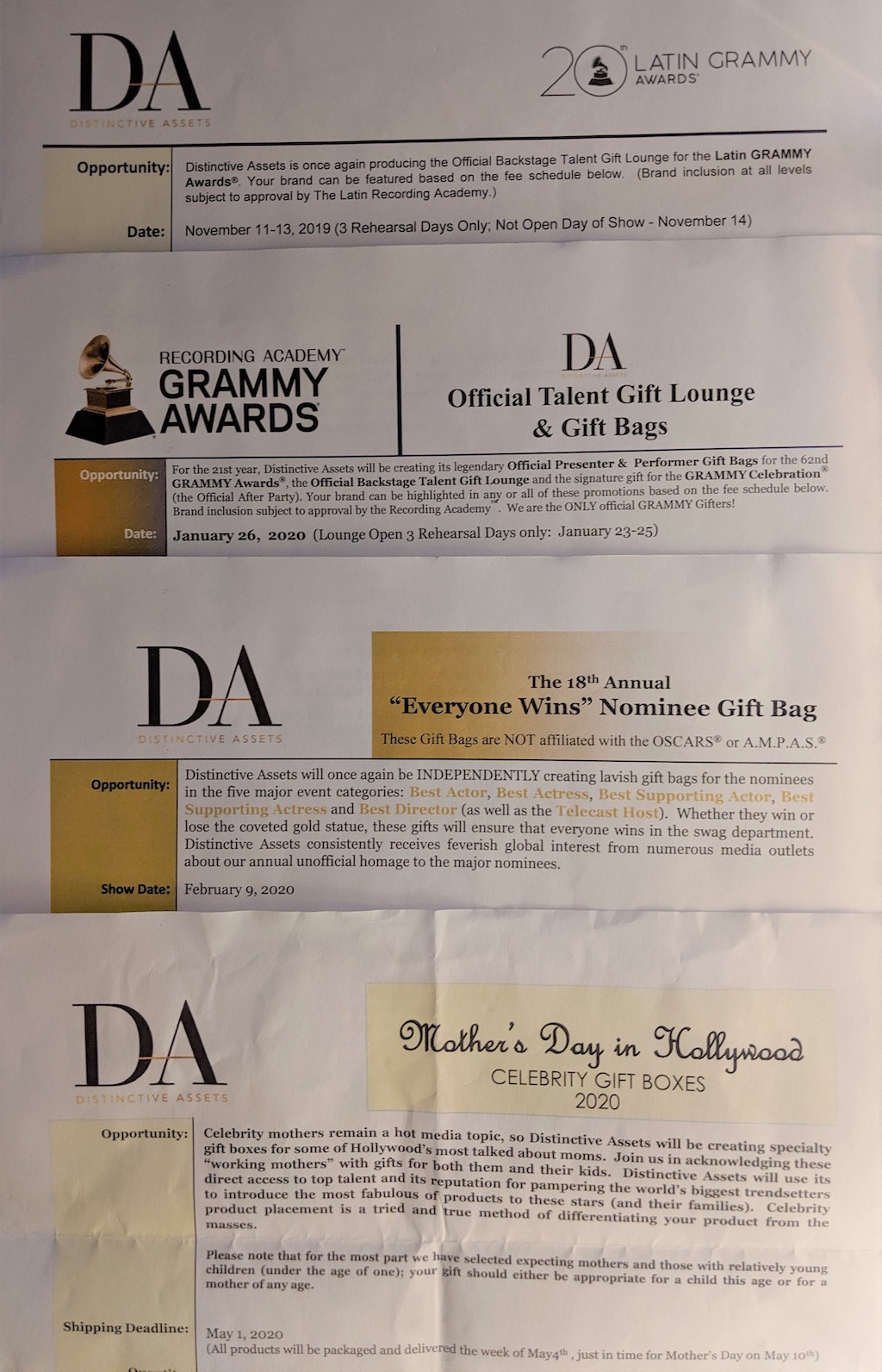 I was sent literature for the events that I qualified for. The Grammy's, The Latin Grammy's, The Oscars, and an event that I knew nothing about because there's no red carpet.
It's called Mother's Day in Hollywood. 25 A-list women that people follow on social media, who are either expecting a baby or have had a baby within the past year are chosen to receive promotional gift baskets prepared by Distinctive Assets. Due to the social media following of these women, IF one were to post any pictures on Twitter, Instagram, or the like, there is a sizable chance the product they post will get a spike in sales. I think it's called "The Oprah Effect."

This information put a whole new spin on my dream. My Fancifull stories are written for children. Hazy Dayz Dragonflies and Mother's Day in Hollywood appears to be the perfect combination. The bonus is the promotional fee charged for this event was far less than any of the others, AND, it was the only event of the four I didn't need to attend – in Hollywood. I'm a country girl and really don't appreciate the hustle and bustle… and lack of green that cities have. I would not be happy there – even for a visit. (Did I mention I'm moving to Newfoundland? A post for another time. 🙂 )
So… with the fee paid, and the ink dried on my contract, I've been carefully designing the appropriate packaging for my dragonflies. Unlike the crystal-clear celophane bags with hang tags that you currently purchase them in, I've designed custom boxes and gift bags with Inserts to describe the contents – My Fancifulls.)
The boxes and inserts (and the custom, much needed "Made in Canada" stickers) are ready for shipping to me. We are waiting on the manufacture of my custom gift bags. I expect they will be completed early next week and it will all ship together. As it is the same company that produced my business cards, swing and hang tags, SWING TAG CO, Sydney Australia, I know they will do a fabulous job. And as I'm a planner/organizer-kind-of-gal, I've plenty of time to prep all the tissue paper "pillows" for the boxes. Heck! It's still the first week in September!
My gift packaging will be available at the EY Centre December 5th – 15th at the Originals Christmas Craft Show. Gift boxing will be available (for an additional fee). I'll show you in a future post how it will appear. Until then…
Dreams do come true – with persuasion and determination. Believe!
Sue, Axie, and The Fancifulls.
( I will try – Mike – Don't Yoda me! 😉 – to post a new Fancifull Story this weekend but catch me at the Lanark Harvest Festival – Beckwith Community Park – Tomorrow, Sunday, Sept 8th 11am – 4pm. Last chance to buy a Fancifull at $10. )