Hi Everyone,
How have you been? I hope you've been well. Hazy Dayz Dragonflies Staff (Me) and Supervisor (Axie) are well as are all the Fancifulls, they being completely oblivious to our current situation.
A few updates I'd like to share with you…
I hope you have been well and finding things to keep you motivated while the world takes a break. I believe we are in this for the long haul and embracing new living and communicating styles are important aspects for navigating our way through these times.
I keep myself busy by learning how to navigate social media, specifically Instagram. I feel like I'm back in school again with an extensive course-load and many classmates to bounce ideas off of via our own Facebook group. Kat Coroy of Instagram Makeover 2020 offers this course online and it is exactly what I have been looking for to get up to speed on the platform and be able to reach a greater audience for my products.
My feed is starting to look more professional. I have 30 days worth set to go with my own photography, and my own quotes. You may be thinking it would be far easier to extract credited quotes and photographs from online sources such as Pinterest.
However, if you've been following my blog, you will know the easy way is not my way. Find the most difficult way and wrestle with it using verbiage that would embarrass a sailor, but never giving up. That's my way.  So I've learned about Pinterest (Yes, I did not know much about Pinterest besides you could see pictures there.), Canva – for feed layout, and Planoly for planning the look of my feed.
I have my Instagram account connected to Facebook and that to this website so that all purchases are made through my site.
Next thing, I've created a new dragonfly that was a brainwave this weekend. I craft aluminum dragonflies but was not happy with the durability of the wings. Copper is much stronger and more durable than the same thickness of aluminum.  Problem solved now, though I may have to drink more beer. A bonus was when I discovered some of the "labels" are actually plastic sleeves, easily removed, leaving a pristine, silver-coloured aluminum. These are the cans I'll be using for customers – such as brides who want that neutral metallic in their decor. (I rarely drink pop or soda beverages.)
I repurposed aluminum cans thereby creating some beautifully colourful dragonflies. The can thickness is perfect! And every colour of the rainbow to choose from. Why let flavour get in the way?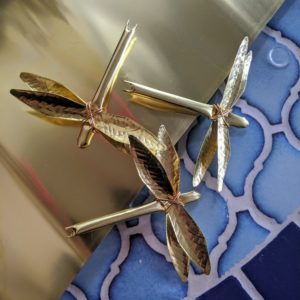 Creating dragonflies from brass is not as easy as I naively expected.
A reminder to my readers that June's Contest will be completed on July 5th. Please remember to email your responses to me in a separate email to hazydayzdragonflies@gmail.com if you'd like to be entered.  June's contest is not a quiz. It is your opinion that I'm asking for.   I already have the answers I need to begin yet another diversion from my current collections. Just an email and you will be entered.
I am now able to create BRASS dragonflies. No product numbers or prices set at this point for either new line.  I should have plenty for the Fall and Christmas markets. Contact me if sooner delivery is required.
I will be starting my newest prototype – a Copper bumble bee. Hoping to have the design finalized and product available at the Signatures Original Christmas Craft Show, or with luck earlier, at the Signatures Originals Craft Show October 15th thru 18th. Both events in Ottawa, Ontario.
I'd like to ask  you to please follow me on Instagram. I require at least 100 followers to have access to site statistics. With this info, I will have more tangible indicators to aid me in my business processes, especially my merchandising and marketing decisions.
Until next time,
Sue, Axie, and all the Fancifulls of Oh Valley