I've been off work this the past few days with a cold… but that has only increased production of Hazy Dayz Dragonflies. 91 Dexters, 28 Dirks and 50 Dinahs. Yesterday, I had prior commitments (to my business) so no dragonflies were produced. My snow tires are now on my vehicle. I have purchased flooring for my Signatures Show at the EY Centre. I have two lovely new tops for that 10-day show and I have 500+ more jump rings for Delta and now L'Ange. Not bad for a girl down-and-out with a cold. But I left out the best part.
A deal has been made – or should I say WAS made to carry the Fancifulls at the Kichesippi Brewery Tap Room. What more could you want? – Great Beer, Designer Pizza, T-Shirts, Ball Caps, and Dragonfly Ornaments? 😉 When you go, you should ask about the really unique end tables in the soft-seating lounge area. They are made by a local artisan too and he will make you a set. Mike says his are not for sale.
So I walked over last evening thinking I needed a picture of my dragonflies in their new, albeit home. I ordered up 2 beer of the bartender's choice. Smart guy that he was gave me a dark and light beer for juxtaposition and positioned 2 Dexters on the sides being sure to display the pub logos to full advantage. While I was setting up for the shot, someone called over to me.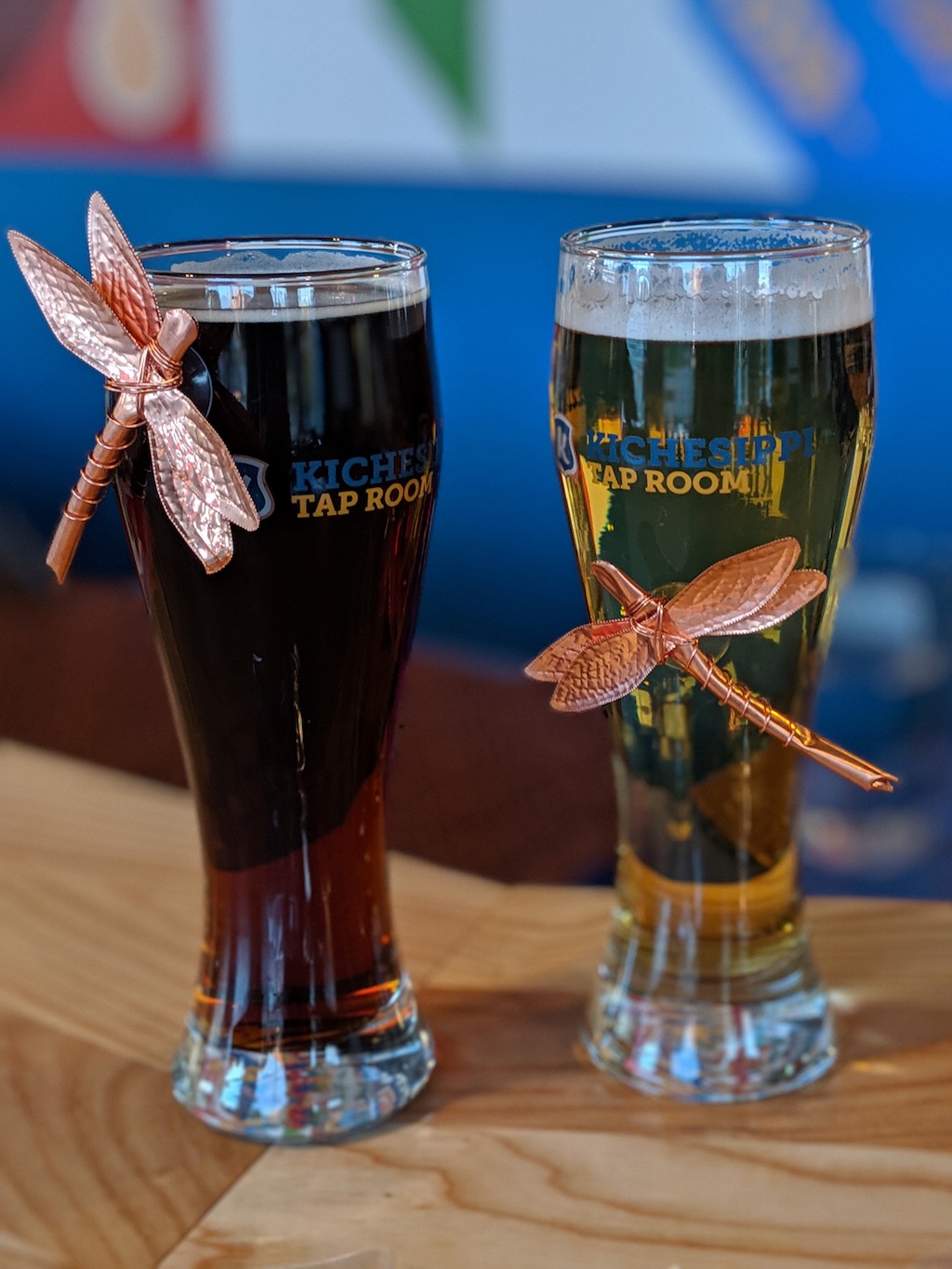 "Are you the person that makes those dragonflies?"
Meet Nikki and Paul, silversmith and goldsmith respectively. We had a fantastic conversation over Craft beer about our crafts. Nikki also showed me more about how to use Instagram… She has over 6000 followers and obviously has gotten very good at getting her word out. I'm a newbie and forget to add hashtags most of the time. I'm getting there.
So the best part of my day was to find out that, Nikki, Paul, and I, as well as 3 or 4 other vendors will be having a craft market right at the Kichesippi Tap Room on November 2nd between 12 Noon and 4pm. Rumor has it there is a CD launch that evening as well.
I had thought that my first day after retiring from Lee Valley would be spent counting inventory. It seems life has other plans. There's always Sunday… or Monday for that matter. Now the biggest decision… Do I carry my stock over – or do I drive? 🙂
Oh I almost forgot… We did a test in the industrial dishwasher in the Tap Room with internal water temperature set at 65 Celsius (149 Fahrenheit). Although poor Dex got a soaking, and fell off the glass, he survived, fresh and ready to re-attach to the next glass available!
Life really is wonderful. I hope you can see the wonder of it too.
Sue, Axie and all the Fancifulls Oh Valley.