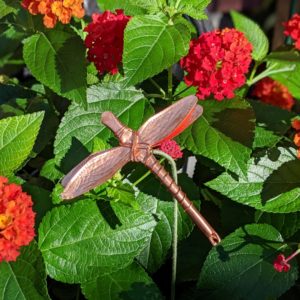 Life has returned to its normal pace with Darby back from "up the Valley." I think frenetic would describe it best. Darby returned with his typical whirlwind pace, darting around as he regaled tales of his exploits with his old school buddies. Sometimes it's very hard to keep up with Darby because his thoughts tend to race quicker than his body… and that's very quick. As Dixie reminded me, Darby can be exhausting to listen to. With his return, Delta, Dixie and I were realizing this was one of the reasons we missed him so much. That's our Darby and we're glad he's home. Do you know someone like Darby?
Darby met his friends, Dash and Driscoll, in a small town renowned for its Sticky Buns. They have an old-fashioned General Store with squeaky wood floors. It's an amazing store. He bought a Sticky Bun and managed to get all gooey, like everyone when they eat one of these wonderful buns for the first time.
The three friends flew to the near-by Mighty Oh River and took a quick dip to get cleaned up. How did he get the sticky goo on his wings? Wow! They really ARE sticky. Dash and Driscoll showed Darby a really old stone bridge. It had 5 stone arches along its expanse and the dragonflies had a wonderful time flying in and around the arches as they cleaned up. It was wonderful to fly into the cool darkness under an arch after being in the hot sunshine above them seconds before. He'd never had so much fun taking a bath before. He could be happy staying here all day but Dash had other ideas. He wanted Darby to see a place much further up the valley.
Dash was the quickest flyer in Darby's class when they attended Drone On Dragonfly School. That alone made him "Top Student." His real name is Drayton but his friends call him 'Dash' because he is so quick. Time has not slowed Dash down. Darby and Driscoll flew as fast as they could and managed to keep up and eventually came to an unusual place, that had rows and rows of green vehicles. Dash said that these were Army Tanks and he was signing up.
Darby didn't know what he meant. Dash explained that he wanted to serve his country and was going to become a member of the Armed Forces. Darby still wasn't sure what Dash was talking about. What did Dash mean, "Serving his country?" When Dash explained he was going to wear a uniform and fly high above the treetops keeping an eye out to be sure everyone was safe, that he could actually leave Oh Valley and fly to far off places to do this important work, Darby wondered if he might like to sign up too. It sounded glamorous but also dangerous. Dash must be very brave to want to leave Oh Valley and watch over strangers to ensure their safety. He'd better not rush into this decision as everyone tells him he's apt to do.
He'd go home and think about it. He'd ask Delta and Dixie what they thought too. He knew the final decision had to be his alone but he needed advice.
Dash and Driscoll flew back with Darby as far as the town with the 5-Arch Stone Bridge. They knew of a wonderful Ice Cream Shop there and it was a very hot day and ice cream is perfect to eat on a hot day. They made one final stop in town to a shop that sells wonderful fudge. Of course, they needed another dip in Oh River to clean off all the ice cream drips and sugar. Darby had a wonderful time with his long lost buddies but it would be good to be home with Delta and Dixie at his Insect Inn.
After saying Good-bye, Darby raced as fast as his tired wings would carry him. He didn't want to be out past dark. He didn't usually fly at night and although he'd never let on to his friends, he was actually afraid of the dark. He began wondering if Dash would have to fly at night in the Armed Forces. He really needed to think this through.
He arrived back to the Insect Inn just as the sun was setting and found his friends waiting for him. He was so glad to be home.
He's over my shoulder now showing me what picture he wants to use as his new Facebook photo. I keep telling him that he doesn't have a Facebook Page. He keeps asking, "Why not?" I may have to look into that or Darby will never rest. For now I promised that I'd post his favourite picture on my Facebook page for him.
Have a great Hazy Day of Summer Everyone!
Sue (for the Fancifulls)