My name is Sue Gibb and through my website, I will be showing you my creations. I'm a start-up business – as of May 23rd, 2019 – and am heading off to my first trade show this weekend. (Update June 13th – Exciting news! I will not be attending trade show – purchase has been made for more than the 100 units I'd prepared for the show. Need to get my fingers working on more stock to fill the order placed.)
To begin, my posts will be few but not meagre. (Yes, I'm Canadian and that's how we spell it.) I will be concentrating my time on building up my inventory and cold calling, and of course conducting sales. I have grey hair which, for me, means that I don't know enough, yet, about e-commerce and selling online – Stay tuned. August 15th – All systems Go for selling online via PayPal and its myriad of options.
I will be posting on the exploits of my "Flights of Fancy", namely, for now a Dragonfly Collection – Darby (Stem), his cousin, Delta(Jump Ring and Ornament Hook), and her friend, Dixie (Alligator clip and Summertime visitor). Under development are more friends. (As of August 15th, Dragonfly Collection has expanded to include Dexter – Dex (Suction Cup), Daphne (Hair Comb), Dirk (Craft Wire), and Dinah (Brooch Pin and film star). Each SKU is available for purchase on this website.) In development are Butterfly Collection – Bianca (who dreams of becoming a Ladybug like her friend, Lily, so she can zip around quickly and get into tight spots), Flutter (dreams of becoming a short-stop for the New York Yankees, Fanny(Friend to Flutter, dragged to Spring Training with Flutter to try out as Designated Hitter), Buttercup (was resident book"caterpillar" and kept all his reference materials through his metamorphosis), Bella, Brianna, Bonnie, and Bradley – Bumble Bee Collection – Bizzy (Queen Bee), Baxter (Allergic to Pollen), Belvedere (Senior Bee and Weather Prognosticator), Brighton, Honey, Billy, and Bernie – Grasshopper Collection – "Grampa", Gracey, Gryffin, Grommet, Gwendolyn, Gabriella, and Grady. Ladybug Collection – Lily (Bianca's BFF), Alexandra (Lexie), Larry, Louie, Luna, Lucie, and Leah. Finally there will be Miller Moth Collection… triplets: Milly; Molly; and Mazie, as well as Marcus, Michelin, Monday, and Milton. All collections will have the same choices for displaying – stem, ornament hook, alligator clip, suction cup, hair comb, brooch pin, or craft wire. And of course, all Fancifulls will be designed and hand-crafted by me from sheet copper.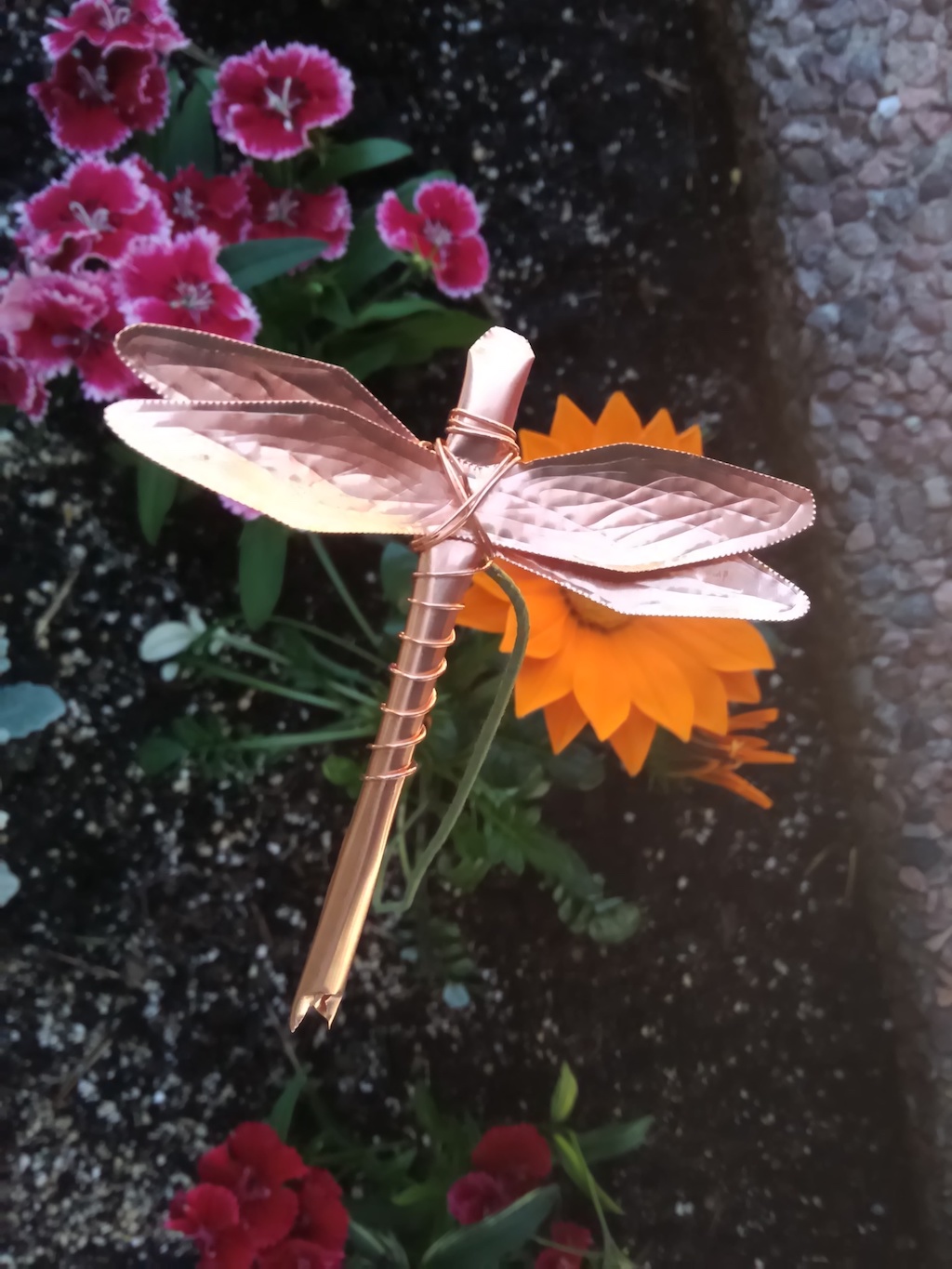 Today, please meet Darby. He is a Copper, Dragonfly, designed and hand-crafted by me. Darby hovers around in planter boxes and hanging baskets via his 18″ green, fibre-wrapped steel stem. He has been known to appear in live and dried floral arrangements. Darby likes to be found anywhere his steel stem can be wrapped, candlesticks to newel and bedposts.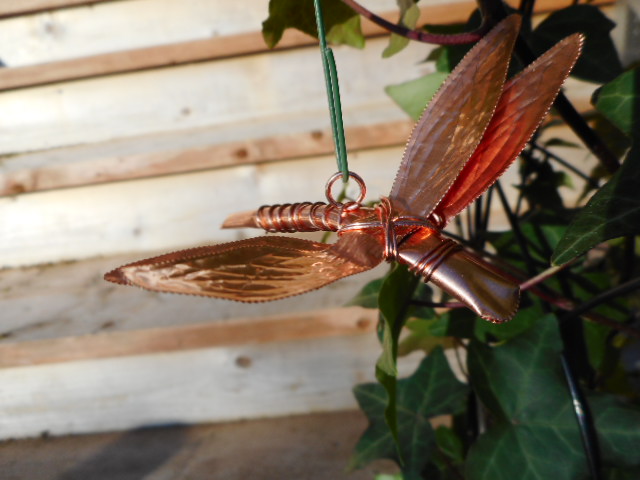 Darby likes to brag to his cousin, Delta – a hanging version, via a copper jump ring and fibre-wrapped steel hook – that he has so much more freedom. All she is able to do is sway back and forth in the breeze. He just doesn't understand with her limitations, how she could always be so darn cheerful. He needs his space. Delta is very calm and amiable, dancing around the leaves in the grapevine-strewn pergola. She needs to be amiable, hanging around a cousin like Darby. She loves him but he can be such a Drama Queen!
I'd also like to introduce you to Dixie. She's a bit shy and hasn't allowed me to take her picture yet. She likes to rest on her shade sail, watching over her friends Darby and Delta. She is also a copper dragonfly that clips onto fabric and other thin items via her toothed alligator clip. Darby really doesn't understand what Dixie has to be happy about either. She can't even sway in a breeze like Delta can. She's totally clipped on. Dixie, however, likes her shady location. She finds that just watching Darby dart about in the sunshine is exhausting. He should learn to relax.
Please stay tuned, and if you are in or visiting the Ottawa area, look out for Hazy Dayz Dragonflies at one of 5 Ritchie Feed and Seed locations.
'Til next time
Sue and The Fancifulls